Brigitte Singh's textiles are widely recognised as being amongst the finest block prints in the world. She is renowned for the unsurpassed quality and attention to detail she brings to her traditionally hand printed Indian textiles. The prints are both inspired by and taken directly from archive representations of the stylised motifs from the 17th to 19th Centuries of the Mughal Empire.
Brigitte Singh became fascinated by Indian chintzes and their influence on 17th Century French Provencal prints when she travelled to Jaipur as a Parisian fine art student in 1980 to study Indian miniature painting under the Kumar Sangram Singh, a distinguished scholar and collector. Her interest in textile design led to the opening of her studio in 1984 to create designs using forgotten Indian motifs, striving to achieve the high quality of the 18th Century ateliers.
The fabrics are created by traditional block print methods using a master printer who supervises a team of block printers. A 40 foot length of fabric can take up to a day to produce. It is a highly skilled process with separate blocks being used for each different colour, the correct positioning of the block being judged by eye. The blocks are frequently recarved as splitting or deterioration occurs over time. Brigitte Singh uses this necessary recarving process to her advantage by constantly updating older prints with new configurations, keeping her collections inspirational and fresh.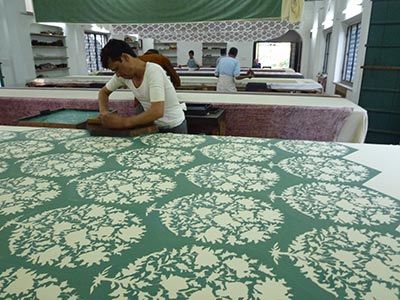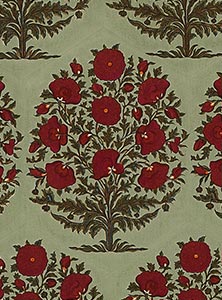 Brigitte Singh continues to research museum archives and collections, as well as using her own collection of historical textiles to seek new inspiration. Her work, including the magical décor of her own home, has been featured in numerous books, magazines and articles, and is held in several public collections throughout the world.
The Brigitte Singh interiors collection is distributed exclusively in the UK and US by Aleta.